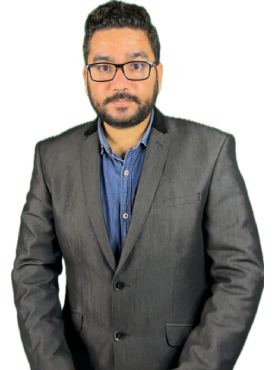 Mr. Nikhlesh Kunwar
Director - Royal Developer
As we know, Website of your business is as important as your business card. Intranet is the lifeblood of many businesses. However, the increasing cost of in-house resources and extravagant consultant costs make it difficult for small and medium sized businesses to maximize the benefits of these tools. Royal Developer now offers low cost website and internet outsourcing solution that would not impact your customer service and still offer the most affordable rates. Outsourcing website to Royal Developer would also free your time so that you can focus on running your business more smoothly and dedicatedly Your business is unique, your people are unique, your organization's culture is unique and you as a CEO run your business according to your style of management. I do not take a "one way fits all" approach to your business. I take the time to understand all of those unique attributes that shape your company and how you compete in your industry. I fill in the gaps in the experience level of your teams and I work closely with them to align and focus their efforts to achieve your goals. I also fill in the gaps where you and your teams do not have the time to deliver specific goals
Organizations, today, are increasingly outsourcing their IT (Information Technology) requirements to countries like ours. With the obvious cost implications, another aspect that companies are increasingly finding out outsourcing partners is that outsourced vendors can match world-class quality standards and can always look for the most comprehensive partners. Web-enabled Services or Projects forms a part of the gamut of services being outsourced to Indian companies as part of Global Information Technology Requirements.
Are you tired of the increasing cost and decreasing customer service of your intranet and website management? Do you feel like your IT employee/consultant is treating you like a hostage because you have no control over what they are doing? Have you considered outsourcing your website needs?

If Yes, then the brave choice and the need of hour is to outsource your internet, website design, website marketing and web maintenance needs for affordable prices and still improve customer service. Royal Developer is an IT Consultancy and Web Technology outsourcing company that is your ideal solution.
We at Royal Developer, Dehradun, are a team of strong entrepreneurs who believe that "if you have it in the mind, you will certainly have it in your hand". We also believe that you will get everything you need in life; if you help enough others get what they want too. Our mission is To be driven by The Passion for mutual success " Royal Developer is a provider of end-to-end computer solutions to businesses and specializes in developing robust, scalable, and cost-effective web-applications. We are constantly enhancing our talent and product portfolio by mastering the latest innovations in technology and creating new cyber solutions for our customers. We take special pride in the high level of integrity with which we handle every project. We deliver consistently as promised - on time and within budget. Earning your trust - and keeping it - is our most important consideration.
We have helped many businesses enhance their productivity and maximize their operating efficiency. We specialize in system integration and we really shine when working with large-scale or complicated projects. We have helped many customers, who were frustrated with their existing technology partners due to their lack of commitment or expertise, and have been able to foster long-term and rewarding business relationships with them. Our customer reviews are our medals of honor. All our customers know that we'll get the job done, we'll do it right and we'll do it on time. We take your projects - and your business - as seriously as you do.
Please take some time to become familiar with our product and services. Having a diverse group of talent enables us to create dynamic teams of professionals who have the broad spectrum of expertise needed to complete all projects with an unmatched level of professionalism and integrity. It also enables us to create high-quality cyber solutions for businesses and deliver them in a hosted environment.
I hope you will consider a business relationship with Royal Developer and become "Powered by Royal Developer".
Education Qualification:
Diploma :

Diploma in Software Engineering
( NIIT - Bhuj - Gujarat )

Bachelor Degree :

B.Sc - I.T
( Kuvempu University - Bangalore )

Master Degree :

M.Sc - I.T
( Kuvempu University - Bangalore )
Contact Detail:
Contact:

Phone: 81712 00108
Whatsapp: 81712 00108

Contact:

Phone: 82184 67238
Whatsapp: 82184 67238

Email:

nikhil@royaldeveloper.in
royaldeveloper.india@gmail.com
Other Business Owner: